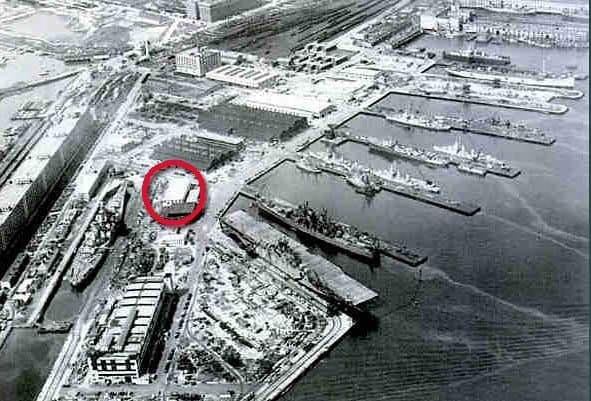 7 Tide is a one-of-a-kind building.
When you visit 7 Tide, you are stepping inside a space that has long been synonymous with specialized craftsmanship. 7 Tide, built in 1943, was originally known as The Riggers and Sail Loft Building in Boston, owned by the U.S. Navy Yard.
When you visit, you will find yourself adjacent to Boston's Dry Dock #3, a facility actively repairing ships, primarily for the U.S Navy, United States Maritime Service and Military Sealift Command. In August of 1992, when Cunard's Queen Elizabeth 2 ran aground in Nantucket Sound, she was brought to Dry Dock #3, the only dry dock in New England large enough to accommodate her for repairs. When you visit, you may enjoy the sight of a ship towering above the 7 Tide parking lot, a constant reminder of this building's maritime history.
Since Tom and Sean Clarke purchased the structure in 2014, they have been delighted to continuously learn of the unique history of the building. If you look up into the ceilings inside 7 Tide, you'll glimpse massive Douglas Fir timbers. Forestry experts have confirmed these were crafted from trees no longer found on our planet. With that knowledge, and a respect for both unique materials and superior craftsmanship, the Clarke family has made sure that these and other historical characteristics have been preserved as they reimagined what 7 Tide could bring to Boston's most innovative neighborhood.